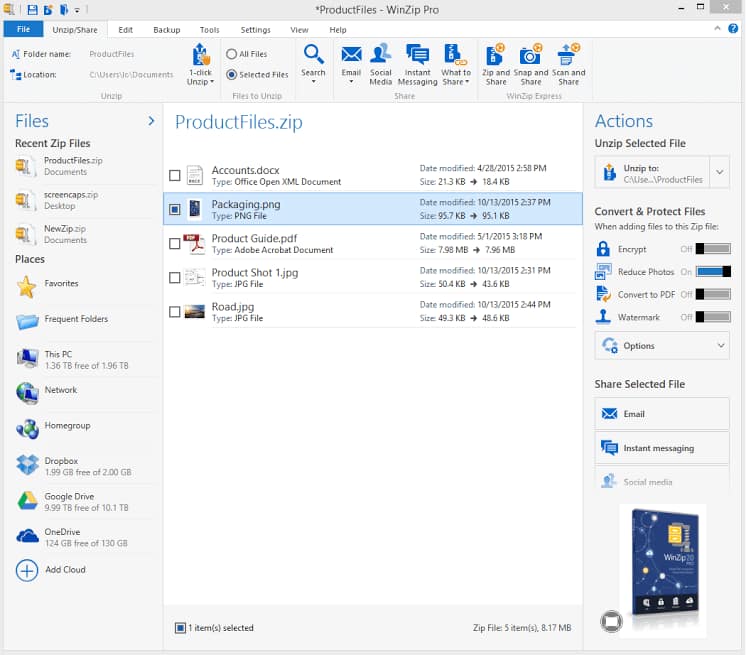 WinZip's TAR Opener Functionality
Need to open a TAR file?
Download WinZip to open your file now.
What is a TAR file extension?
A TAR file is a type of archive file, used to collect and combine several files into one manageable file. This is usually for the purposes of distributing or archiving, and the name comes from "Tape Archive", a heritage term from when files used to be stored on physical tapes.
As well as the files themselves, a TAR file will typically contain the file structure, permissions, dates and hierarchy which makes it useful for storing and cataloging backup files.
The main difference between TAR files and other archive formats is that they do not compress the files into a smaller space, they simply collate them. So if you are looking for a space-saving format you will need to combine TAR files with a third party compression software such as WinZip to create, for example, GZIP or Bz2 files.
A TAR Bz2 file is a lossless compressed archive file type, a kind of TAR file which is usually used for moving software such as video games and operating systems from one device to another.
What are TAR files used for?
TAR files are often found on UNIX based operating systems. They are commonly used for delivering package files or program installers, although they can also be used with Windows platforms.
UNIX users will be familiar with TAR files, particularly if they frequently download or share files with other users. The usefulness of TAR files comes from the consolidation of multiple complex file structures into one single file that is easy to upload, download, and share - whether it's high quality media, a software program, or even an entire operating system.
Although the file size will not be affected as the content is not compressed, just handling one file instead of hundreds makes it a very useful shareable file type.