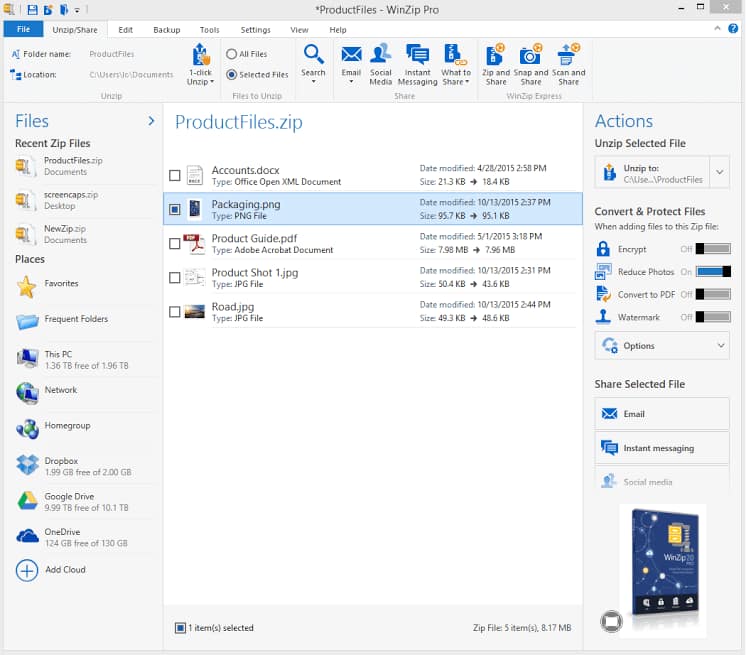 WinZip's GZ Opener Functionality
Need to open or create a .GZ file?
You're not alone! Many people are scouring the web in search of answers to their questions related to the GZ file format.
Luckily, we have all the answers. Today we'll be going through everything you need to know on how to open, create, encrypt, use, and convert your GZ files.
Let's go!
What is a GZ file extension?
The GZ file format is commonly used as a compression format for Linux and Unix operating systems. So as a Windows or Mac user, you might not be entirely familiar with what the GZ file format is.
Jean-loup Gailly and Mark Adler created the GZ file extension in the early 90s to improve compression in Unix.
The GZ file format later found use in Linux as well. GZ shares many traits with the ZIP file format and is widely used in the same sense – compressing files.
One downside to GZ is that it can't compress multiple files into one. However, the GZ file format is often combined with TAR archives to archive multiple files. Unfortunately, this combination does not support compression.
What are GZ files used for?
Much like a ZIP file, the GZ file format is used for file compression. And with the GZ file extension, it's possible to store single files.
When using the GZ file extension, useful information such as the original file name and timestamps remain intact. This can be very handy as compressed files may lose their timestamp when transferred.
Other than compressing local files, GZ compression is often used to compress elements of web pages to speed up page loading. This is important, as an increase in web page loading can reduce bounce rate (visitors leaving your site) by up to 32%.