WinZip File Sharing Services
Sharing information electronically has become a cornerstone of our daily lives. Being able to stay in contact with each other and send/receive data easily has helped shape both our personal and professional lives in fundamental ways.
WinZip first contributed to this evolution by providing our customers with world-leading file compression technology. For over 20 years, WinZip's zipping power helped millions of users around the world create smaller files that are much easier to transfer and store.
As technology has evolved, so has WinZip's commitment to making file sharing better. Not only do we make your files smaller and easier to share, but today we offer new features that integrate seamlessly into email, cloud services and social media sites. Now WinZip lets you connect with OneDrive®, Dropbox, Google Drive™, Facebook, Twitter and LinkedIn® for worry-free sharing, anywhere.
Learn more about how to boost your file sharing power with WinZip services that integrate seamlessly with our existing products.
ZipShare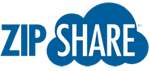 Share any file on Facebook, Twitter or LinkedIn with ZipShare, the integrated file sharing service. Learn More >>